Here are some pics from the trip out here as well as some local shots...
The new car ready to go
Open road
I think we saw this truck a few times
Look, ma, a train....
The desert does strange things to a camera
I think the name says it all...
Visitor center...looks very Southwestern, no?
Yucca plant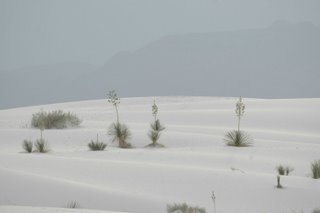 The desert
More desert
and again
sun setting....on the desert
Vicki shooting...in the desert
you can guess where this be...
Stop and shop!!
complete with Running Indian (no, I did not make that up!)
Another stop on the way
HA!!
Look ma! Another train!
Oooh, Saguaros!! You know we're in Arizona!!
Cactus bud
Along the Continental Divide
We made it to Cali!!
...and miles to go....
Our little hotel in 29 Palms
There's our room
Greenery at the hotel
The view from our little hilltop
Which-a-way, George??
Joshua Tree National Park
Visitor Center
Ocotillo Cactus
I could use a beer...
hey! Look!! Damn! Empty!
The Joshua Trees begin
Doesn't look much fun to climb
Life in the desert
Dried broken gourd
My car looks so small!
Too bad they had this sign where there
weren't very many Joshua Trees...
Some cool rock formations
I tried to climb this one and sit in the eyeball...
I just couldn't make it..too short
This one's got to be quite old
Ah! Finally, the forest!
Another view
Vicki in the forest, looking awfully tiny in comparison!
Ok, we're going the right way!!
Boxes in the dining room...
Boxes in the kitchen...
Boxes in the bedroom....
Vicki gets to work!!
El gato checking things out...
and making sure the chairs are up to snuff
The local train stop...
St. Joseph Church
Old tree on the beach
Carpinteria State Beach
People walking along the beach
Woman walking her dog
Sea anemone
And a few more having a party...
A clam showing off...
Crabby Joe
The beach in the other direction
High tide coming
July 1st car show
Linden Avenue in Carpinteria
Jacaranda and Palm Trees